When is installation art copyrightable? A lawsuit against a Florida botanical garden tests whether a well-known artist's light sculptures are protected by copyright.
Earlier this year, U.K. artist Bruce Munro, most known for his light-based installation artwork, which has been exhibited at numerous American exhibition spaces including Pennsylvania's Longwood Gardens, filed a copyright infringement lawsuit against the Fairchild Tropical Botanic Garden ("Fairchild") in Coral Gables, Florida, alleging that the botanical garden imported, installed, and publicly displayed "indistinguishable copies" of Munro's original sculptural artwork for an annual winter event called the NightGarden.
Munro also sued the garden's lighting supplier, Zhongshan G-Lights Lighting Co., Ltd. ("G-Lights"), alleging that it illegally copies most of Munro's portfolio. Below is an image included in Munro's Complaint of a screenshot of G-Lights web page on Alibaba, advertising its lighting as "Munro style:"
G-Lights has not appeared in the action, and is the subject of a motion for a default judgment.
Last month, Fairchild moved to dismiss the artist's lawsuit. By its motion, Fairchild claims that it cannot be liable for copyright infringement because Munro's artworks are not copyrightable. Fairchild argues that Munro claims copyright protection in "fiber-optic light products" which encompass his sculptural works, but those light fixtures are mere useful articles containing no conceptually separable artistic design features and are thus not subject to copyright protection. Fairchild also moved under Fed. R. Civ. P. 12(e) for a more definite statement, claiming that Munro has failed to allege what elements of his artworks are protectable by copyright and have been infringed.
Munro, for his part, argues that he has a registration from the U.S. Copyright Office for one of the works at issue, and as to the others, he claims the works are protected under the Berne Convention and U.K. law, which grant automatic copyright protection upon a work's creation. He further claims that he did not need to register his non-U.S. works with the U.S. Copyright Office in order to commence his suit, but that his Complaint makes a prima facie case of copyrightability in light of his registration for one of his light-based works, and that another court (the Eighth Circuit Court of Appeals) has stated in an unrelated lawsuit that "Munro's light-based artwork and installations are sculptures and, as such are copyrightable." Munro v. Lucy Activewear, Inc, 899 F.3d 585, 591 (8th Cir. 2018). In response, Fairchild argues the Eighth Circuit never analyzed whether Munro's works were actually copyrightable – it merely determined that because Munro alleged his works were sculptures they were within the subject matter of copyright and as such, copyrightable, preempting his tortious interference claim asserted in that case. Fairchild further argues that just because one of Munro's works was accepted for registration by the U.S. Copyright Office does not mean that that office would necessarily register his other works.
Last week, the court heard argument on Fairchild's motion to dismiss. We will continue to watch this case with interest.
Image of Bruce Munro Work, Forest of Light
Image from Alibaba Website, showcasing NightGarden as a representative work: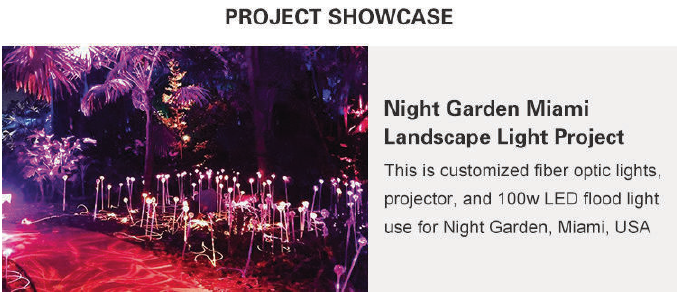 Recent posts from IP & Media Law Updates